Carl Niehaus to be Arrested?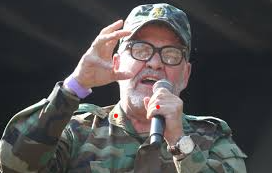 Warning! This article contains graphic content.
In Johannesburg, on Friday the 9th of October 2020, Carl Niehaus organized a protest action in support of J. Zuma and the RET faction of the ANC. Mr Niehaus called for the "recusal" of DCJ Zondo and the disbanding of the commission into "State capture". Sources close to the MKMVA (Mkhonto Mlitary Veteran's Association) have told me that the main reason for this demand, is that Mr Zondo has begun to distinguish the truth in amongst all the MBE (Male Bovine Excrement) emerging at the commission.

This reporter has also been reliably informed, that a warrant of arrest has been issued against Mr. Niehaus. Apparently some of the cadres within the MKMVA have laid charges of "public flatulence" against Mr. Niehaus. Sources across the street from the centre of the disturbance have described the act as being "very violent". Those within a good social distance of the area have likened the odour to a "weapon of mass destruction", survivors who were close to ground zero have alleged that it was a "crime against humanity". The "Hawks" are investigating, however their investigations have been hampered, as a result of there being insufficient PPE (Personal Protection Equipment) available.

Mr. Niehaus has in the meantime vanished, apparently, he has gone into hiding for fear of vigilante action. The MKMVA refused to comment on the matter, saying only that they suspect a plot by WMC (white monopoly capital) to implicate their comrade. Others have stated that the "free pizza", delivered to Mr. Niehaus the previous evening, is very suspicious. Meanwhile Denel has expressed an interest in the commercial use of the gas, for "crowd dispersal". According to a spokesperson, if combined with nitrous oxide, this gas would be most helpful in dispersing violent crowds, and would be far more effective than "teargas".

Medical laboratories in Pretoria are also testing the gas, in mild doses, for use in resuscitating patients with Covid-19. Early results, apparently show promise. It would not require expensive manufacture, and copyright does not apply, since it is already in the public domain.

This is a developing story.
Leave a comment
Be the first person to comment.
Using this site means you accept its
terms
| Copyright © 2022 Break The Box, South Africa
| website by